Lullaby Song – Rajkumari Lyrics from Vikrant Rona is brand new Kannada song sung by Vijay Prakash while this latest song is featuring Kichcha Sudeep, Nirup Bhandari. Lullaby Rajkumari song lyrics are penned down by Anup Bhandari while music is given by B.Ajaneesh Loknath and video has been directed by Anup Bhandari.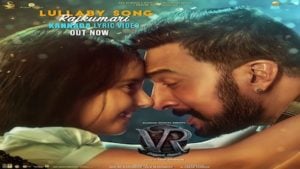 Lullaby Song – Rajkumari Song Details:
| | |
| --- | --- |
| Song: | Lullaby Song – Rajkumari |
| Movie: | Vikrant Rona |
| Singer: | Vijay Prakash |
| Lyrics: | Anup Bhandari |
| Music: | B. Ajaneesh Loknath |
| Starring: | Kichcha Sudeepa |
| Label: | Lahari Music |
Lullaby Song – Rajkumari Lyrics
Thannane Beeso Gaali
Haadide Jo Jo Laali Hmm Hmm
Thannane Beeso Gaali
Haadide Jo Jo Laali
Ee Nanna Madile Ninna
Thoogo Uyyale Thoogo Uyyale
Chanda Mama Bana Yeri
Kaddu Malagida
Niddeganni Nalle Idee
Bhoomi Belagide
Chandrana Belakinali
Malagu Rajkumari
Kanasina Thera Yeri
Maadu Sawari
Nee Maadu Sawari
Gumma Baruthanendeke Aluve
Ninna Baliye Naaniruve Kanda
Odi Bandu Ninna Appikoluve
Hogadiru Nee Doora Nanninda
Irulanu Belago Nagu
Yendu Heege Irali Maagu
Nanna Jeeva Ninna Olagide
Megha Raja Kooda
Neeraagi Karagida
Baachi Thabbi Kondu
Hasiraithu Maragida
Yeleya Bogaseyinda
Bhoomiya Mele Jaari
Male Hani Maado Sadde
Suvvi Suvvali Suvvi Suvvali
Nanna Baalinalli Neenu Iruve
Kanna Haniya Oreso Beralaagi
Yendu Ninna Hinde Hinde Baruve
Yelle Hodaru Ninna Neralaagi
Preethiyinda Guddaduve
Appikonddu Muddaduve
Thunti Hego Nanna Nagisuve
Saddu Maadabeda
O Beeso Gaaliye
Kandanige Saaku
Ee Nanna Laaliye
Kannina Reppe Mucchi
Niddege Bega Jaari
Malage Malage Nanna
Muddu Bangaari
Muddu Bangaari Hmm..
Lullaby Song – Rajkumari Music Video
Written by:
Anup Bhandari
Found Any Mistake in Lyrics?, Please Report In Contact Section with Correct Lyrics!
You may also like…